What if Social Media were a Disorder?
Written on January 15, 2008 – 4:03 pm | by Shana Albert |
As I was waiting with my son in his Doctor's waiting room I started reading one of the many pamphlets that they had sitting around. I happened to pick up one of the pamphlet's titled Obsessive Compulsive Disorder. I smiled as I read it as I always felt that I was obsessed with Social Media. And, even though I haven't been diagnosed with OCD I suppose having it might be a possibility. That possibility got me thinking… What if Social Media were a disorder?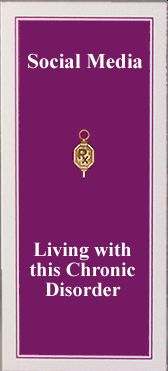 And, the inside of the Pamphlet would read….
What is Social Media?
Social Media is the interaction of people on the Web. Unlike traditional media such as newspapers, TV, magazines, Books, Cds, and radios where there is no interaction between others… Social Media is human conversations via Internet Communities.
What are the Symptoms?
The use of, but not limited to, one or more of the following:
Blogging
Instant Messaging
Participating in Forums & Message Boards
Photo Sharing & Video Sharing
Podcasts
Social Networking
Commenting on Blogs
What Causes Social Media Disorder?
The Need for:
More Traffic
Incoming Links
Visability as an Expert in your Field
Moving up in the Search Engines
Interaction between Business Owners and Potential Customers
Branding your Products Name / Business Name
Passing the word around about your product or Service.
How is Social Media Diagnosed?
An Increase in one or more of the following:
Traffic increase illustrated on Website's Stat Counter (Visitors, Pages, Time Spent)
Your Website being Mentioned Online
Incoming Links / Trackbacks
Increase in RSS Feed Subscribers
Improvement in SERPS
Sales Increased
Comments Increased
Treatment
Once you have caught Social Media it is a Chronic Disorder. There is no way to rid it from your system. Unfortunately, there is no cure for Social Media. Fighting Social Media is extremely painful. The best treatment is to learn as much as you can about Social Media, so you can accept it and learn to live with it.