Justice Reigns: Stumble Troll BANNED by SU
Written on January 16, 2008 – 5:25 pm | by marty |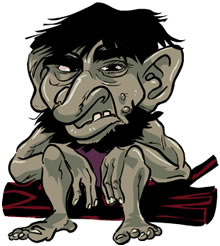 Today aimClear contacted the FBI regarding StumbleUpon cyber-harassment incidents, as they deal with Internet harassment. Justice Rules. We got one of the worst StumbleTrolls BANNED by complaining to SU.
Over the last few weeks, there's been quite a sequence of exchanges between Internet Marketing types and StumbleTrolls.
A StumbleTroll is a social media dreg that follows authentic people around with death slogans and pseudo neo-Nazi meanderings of hate, evil, and terrible poetry.
Our first awareness of StumbleTrolls came to light when our friend AdSenseTracker posted a SUTroll rip-rant which actually explained how to exploit social media malfeasants for traffic. We did a little witch-hunting and found out that for months, SUTrolls had been sniffing like jackals about our heels in sideways ignorance response to a heartfelt (and wildly popular) aimClearBlog post extolling SU virtues. It seems StumbleTrolls want to kill all SEOs, especially me.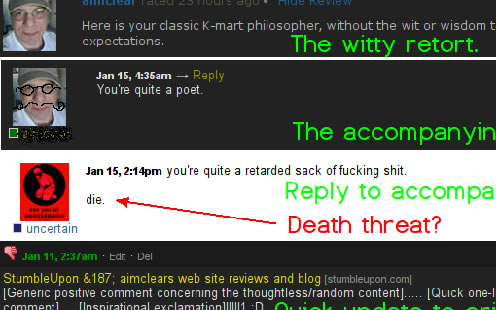 Now, one of the worst offenders, "uncertain," has been thrown out of StumbleUpon in response to our complaint. Here are a few links you HAVE to check out:
Serious Hate
Take a look at the hate proffered on this page (page 2-4 aint seen nothin' yet). We responded by documenting the seedy StumbleUpon underbelly. Then, check out the comments on my SU profile reviews from "Tyfus and uncertain." Feel free to leave an encouraging word to push the trolls down.
Then go SEE WHAT GOT THE NASTY SU TROLL BANNED. Scroll down for a real treat including little mustaches drawn on my avatar and symbolism. Then view uncertain's final SU announcement.
How to Report Cyber and IP Crime
How to Report Computer- and Internet-Related Crime
How to Report Intellectual Property Crime