Defining Social Metrics
Written on January 14, 2008 – 3:30 pm | by Tim Nash |
I read a nice little post by Brent Csutoras I had been pointed towards it by Brian who is quoted within. I have been preparing a post on Mixx since before Christmas for Collective Thoughts so was keen to see another perspective, I was pleasantly surprised but also a little concerned.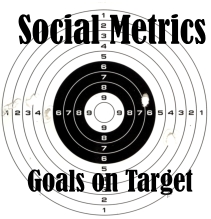 Sheer Volume of worthless traffic is still worthless
How you define worthless of course is the key. The argument put forward by Brent is that Mixx simply doesn't have a critical mass (or activity) to produce enough traffic to make it worth while for marketers. He quotes some stats that are pretty close to mine in terms of sheer visitor numbers to his site and their he stops. The problem is that sheer volume is not a useful metric indeed in many respects rather then being a goal the traffic itself should be considered the cost let me try to explain.
The cost of Volume
Every unique visitor costs a small amount of money, they are taking up bandwidth and resources, the more pages they view the more they cost. A well designed site has a set of "Call to actions" be it to buy a product, subscribe to the RSS feed or comment on the post each of these provide a small ROI how much this return is depends on the action. Even if the return has no financial return it still has a cost implication.
Example
Joe has a blog he has two calls to action 1) advertisement (he wants people to click the links) and 2) Subscribe to RSS
His hosting costs and monthly bandwidth mean each visitor per page costs him approx 1c.
Joe gets 100 visitors – the cost of these visitors is $1 and 1 person clicks an advert he recoups $0.30 Joes total cost is $0.70 if he values RSS subscription at a $0.5 and some two people subscribe then Joe has a ROI of $0.30
Lets say Joe gets to the front page of Digg and has 10k visitors a total cost of $100 he picks up 100 subscribers and 20 people click the ads his total cost is $94 financially and a ROI (including subscribers) -$44
Now I made those numbers up, but the point I want to get across is that everything has a ROI which should be included in any metric. If you sell an Ebook which is it better to have 10 visitors of which 1 buys the book or 10k visitors of which 1 buy the book.
Social media in particular can drive vast amount of traffic with little or no effort but why would you want this traffic what was the point?


Every Goal has to be measured to have success
Working out success on pure visitor numbers is like working out your crop size based on locust population. If your site never had any set goals then it can not have any measured success, to measure success you need to first define your goals and how much reward such goals bring.
In my above example I used financial costs and rewards simply because it is the one thing most people understand but a cost and reward can be far more wide ranging. A good example of a non fiscal metric for blogs is Avinash Kaushik 6 methods for measuring blog success if your interested in looking at these on your own blog Joost has written a plugin at Collective Thoughts we have been using it for a while though it will take a few months before its data will be really useful.
Traffic is good, conversions are better
I love stats and I love social media I watch with joy when I see thousands of visitors on my site through the likes of StumbleUpon regardless of any goals so it seems hypocritical to suggest that traffic doesn't matter but ultimately beyond a childish fascination it does not matter. What matters is if that traffic converted and achieved my goals.
Is Mixx ready for marketers peddling their wares probably not, is it ready for Link Builders hoping to get their stories in front of some of the most forward thinking people in social media quite possibly.