I Can Has Interview?
Written on February 22, 2008 – 1:06 pm | by Brian Wallace |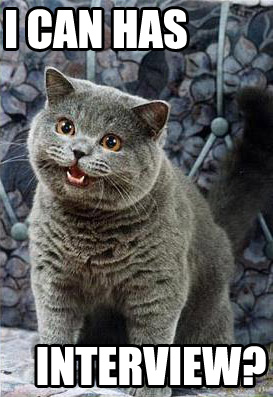 We had a chance to catch up with Icanhascheezburger co-founder, Ben Huh. Here's what he had to say:
1 – Tell us a little about your background. What drove you to create a site like this, and what do you see for the future? Did you ever think that ICHC would get as big as it did?

We never expected it to be this big — or become a social phenomenon. It's a wild ride. We see our role as providing tools and a place to be creative. So we'll continue to build out our site and tools to allow users to do that.
2 – You're a WordPress VIP hosting customer. Can you tell us a little about that experience?

We love WordPress. Period. They are responsive and sharp.
3 – So I guess you're in the cutsie niche? What other sites do you see you are up against, things like cuteoverload.com?

We have cute pictures, but I'm not sure what niche we belong in. In terms of user attention, we compete with the time waster sites, like online games, entertainment blogs, etc.
4 – I've come across ihasahotdog.com. This looks like your latest venture. How's it going for you so far?
I Has A Hotdog as been another WIN for us. Without much fanfare or publicity, it's collection quite an audience. We still consider it a beta, but we'll be publicizing soon. We've been really focusing on organic, word-of-mouth growth and it's working.

5 – You've probably had great success with ICHC in social media. What sites would you say you've done the best with?

The two that stand out are Digg and StumbleUpon. They are very different animals and their users behave differently. We get a jolt from Digg, but Stumble provides us with longer-term users.
6 – Have you been effected in all of the recent Digg algorithm changes?

It seems to have helped us. On Valentine's day two of our pictures got front-paged. Which doubles the number of front-page Diggs we've had.
7 – What are your favorite LOLcats to date? The guy proposing marriage via LOLcat this Valentine's Day was a keeper for me.

There are lolcats we can't [CENSORED] show you. Those are some of our favorites. 🙂 We're amazed as to how creative people can get. Of the ones that are published, emowall is one of my favorites. And it doesn't even have an animal in it.

8 – How much user generated LOLcat material do you get from your fanbase a day?

We get several thousand a day. This is the most exciting and time-consuming part of our job.
9 – On a similar vein, do you ever just get tired of looking at LOLcats?

I thought we'd get tired of it after just a few weeks, but the genre continues to evolve. The creativity of the user-base is amazing. We still laugh out loud every day. At the core of this, it's not about lolcats, or specific memes. It's actually about giving users the power to be creative within a flexible framework. I'd like to think that's what we're getting good at.
There are so many sides to the entertainment, including the lolspeak pidgin. In fact, we've got a new wiki community dedicated to the development of this dialect.
10 – Can you tell us a bit about the upcoming book as well as the poker contest?

The book will show you a new side of lolcats, (read: unpublished) as well as some classics. It's a fun project for us and you can absolutely expect user-participation in creating the book.
The poker contest is a thank you to our users. Expect a lot more contests in the near future.

11 – So, Ben, really 'Can I has cheezburger?'

If you find me mah bukkit. 🙂