How to Increase Your Twitter Following 438% in 30 Days
Written on February 28, 2008 – 6:26 pm | by Brian Wallace |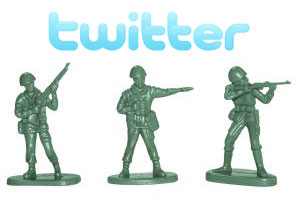 (yes, that's supposed to be a Twitter army 🙂 )
Why Twitter is Important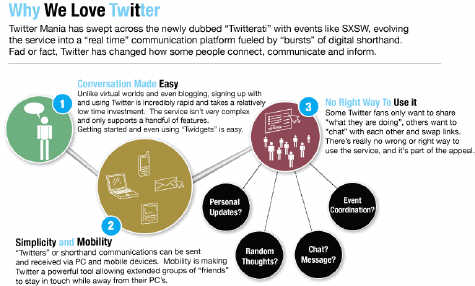 (click image for full size)
To many Internet Marketers,Twitter has become important. Some people may not yet understand, but this may just be part of their journey through the social media learning curve. As with any social media application, site influencers got to where they were by putting in the time to understand the community. Twitter is no exception.
Let's take a look at 7 Steps that Make Twitter Work:
Step #1. Twitter is more than personal updates. Sure, some people like to put in cat updates or say what they are eating for lunch, but Twitter is much more than that. Blogs used to have much the same stigma pinned on them, but one day the world woke up and understood the power of simple publishing + citizen journalism. Microblogging has reduced the time to market of content down to minutes and seconds, a huge improvement over blogs which brought it down to hours from previous forms of communication.
Twitter is a great place to:
-broadcast breaking / important news
-hire people
-get advice (on just about anything)
-run a poll
-rag on others
-promote yourself
-promote others
Step #2. Now that you have your head on straight, socialize. Chances are, if you participate in the social media community, people you know are already on Twitter. While Twitter doesn't have the best way in the world to find people, sometimes the best way is to just see who your friend is following.
Step #3. Don't just sit there, say something. Join the conversation. Without being too noisy, get in there. Nobody is going to ask you to the dance if you are just sitting around. See what people are talking about, jump in with some "@'s" (replies to a user) and perhaps some direct messages too.
Step #4. Now that you've said something, quiet down. Like any social media site, know the community and follow its norms.
Step #5. Know the difference between a push vs a pull mechanism. When you post a link to your latest blog post to Twitter, you are doing a push. An action meant to grab the reader. They can ignore it, but people that like what you bring to the table will check you out. Instantly.
RSS on the other hand is a pull. Users will check RSS at their own pace and it will take more time to get buzz around your content.
Step #6. Fine tune, and read what's out there. Here's the part where you get to see where others have broken ground already, leaving valuable information for you along the way.
My suggested reads:
-Jeremiah Owyang on how he uses Twitter
-Shana's awesome post about 26 reasons why I love Twitter
-DoshDosh put together a fine list of 17 ways to use Twitter.
Step #7. Put it all together and measure your results. As the title of the post mentioned, I promised a 438% growth in followers in a 30 day period. Here was my progression: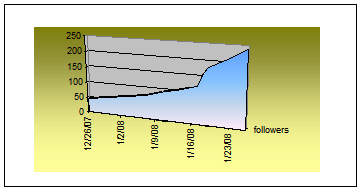 The notable jump right past the midway point came from a mention in Marketing Pilgrim's initial post on Internet Marketers to follow.
After looking through this list a few times, I thought that both Twitter addicts and those that may not even use Twitter at all might be left with a few questions. Here's my attempt to answer a few:
Q: 438% growth doesn't just magically happen. How did you do it?

A: Well, I'll tell you:
1 – Followed people I knew
2 – Adjusted my level of noise
3 – Thanked people for following me
4 -Kept the conversation going with those that replied quickly
5 – Instigated a few fights
6 – Chatted with better known people
7 – Unfollowed those that were bothersome / too noisy
8 – Crosslinked on my blog and other social media profiles
9 – Did a bit of brand management / data mining, keeping a keen eye on Tweeterboard stats, Terraminds info, and Tweetstats graphs
10 – Retweeted things that I felt were important that my followers might have missed from my Twitter friends
Q: Ok, so you got some new Twitter followers. If I post a link, maybe I get 5-10 visits to my blog. Why should I care?
A: The reason that you should care isn't the direct traffic, but rather the indirect influence. If you Tweet a link to a new blog post, people will rush to submit it to social sites. This is changing the "pull" dynamic inherent in RSS (which may become passive for folks that are too busy to keep up on RSS) to a "push" dynamic through Twitter – but to people already interested in you. What's more is that your followers may see your Tweets as a call to action, and begin to submit / vote for post you may have.