Social Media Ninja Winners!
Written on January 11, 2008 – 5:39 am | by Tim Nash |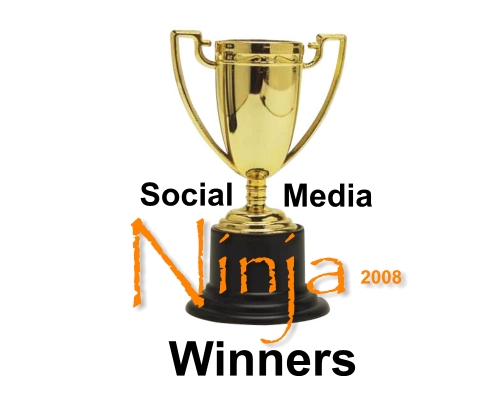 Ladies and Gentlemen the votes have been counted the judges have been arguing, the Collective Thoughts ethics committee was called. Smoke was seen rising, had a new Ninja been selected?
The standard was very high and the participants came from all walks and backgrounds, some were well known already on the social media stage others were coming to the fore. Some were desperate for the title others more laid back.
Finally it was down to two, one had the most votes through aggressive marketing (social begging) the other a smaller voice but still impressive. What were we to do but choose both!


I present you with not one but two Social Media Ninjas for 2008 each ninja wins a unique prize suited to them as well as the right to call themselves social media ninja and to show of their new found status with the Social Media Ninja badge.

BartTheBear (aka Leonard)
love him or hate him, Leonard garnered the most votes. Leonard now holds the title of Social Media Ninja 2008
Leonard's Bio: Why I chose "BartTheBear" – My real last name is Bartholomew. One of my favorite animal movie stars is Bart The Bear from "The Edge" with Anthony Hopkins. I am 6 foot 6 inches tall and built like a bear. I am told that I snore like one too. That is if bear actually snore when they hibernate. The last time I checked I about got my face tore off. I don't necessarily like the conotation of "being a bear", but it sure draws a lot of attention and is a lot of fun when it comes to blogging and representing myself in the social media sites.

SEOSmarty (aka Ann)
Ann also received a good amount of votes and definitely seemed to be a crowd favourite. Ann will share the title of Social Media Ninja with Leonard
Ann's Bio: Well, I am 24, coming from Russia or Ukraine (as you prefer 🙂 ). I started as an affiliate manager for a celebrity poster e-shop, and that's where I learned the basics of Internet marketing. I was then hired as a freelance SEO consultant. I started my own business about a year ago once I came to US. My company is really small (only 6 employees) but that's great to be independent though! I started blogging and marketing at SM about a month ago, and got really excited about that. This resulted in a number of posts on my blog dedicated to social media rather than SEO – just because I can't stop writing about that!
Congratulations to our winners we hope you enjoyed it and those who didn't win will come back next year to challenge for the title Social Media Ninja 2009!