Catch a buzz with Whos Talkin
Written on February 12, 2009 – 7:39 pm | by dave |
Last fall a fellow by the name of Joe Hall got in touch with a new toy he was working on in hopes of getting some insight. Seems he wanted some insight from the tool's perspective, being a Grade A tool myself, his reasoning seemed sound. I figured that was surly the reason as my social chops are, well… less than enviable.
Either way, I'm always up fer playing with shiney new things and if someone wants to listen to my rambling, that's an issue for their therapist.
If we know one thing my friends, as well as we do any, there are waaaay too many tools out there. Whos Talkin falls into the void of catch phrase greatness, buzz monitoring. As regular readers may remember, we looked at Google Custom Search Engines and other buzz tools for blog posting, not so long ago. Avid search geeks just have a thing for information discovery, indexing and retrieval.. so it's natural.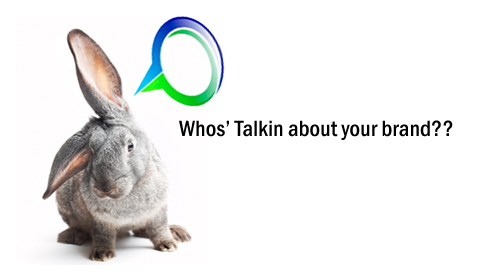 What's the buzz? Tell me what's happening?
For all you information magnets and buzz stalkers… I say, give Whos Talkin' a try. It looks like a pretty good tool that has a future. When asked, some of my other mates gave it a go and agreed that WT does seem to find mentions that other locales (Technorati, Google Blog Search and their ilk) weren't finding. Add to that the handy segmentation and it's definitely worth keeping in the tool box.
Lay of the Land
OK… give you a quick look and then you might as well head over and give it a go for yourself…. Simply start off at the clean (Googlish?) home page; put in the term you want to check on (can be anything from topics, names, places, researching blog posts). From there you are presented with the results, in a nice simple interface. For me the text is a tad large, so CTRL- sorts that for me…  
Anyways…I searched the drama du jour …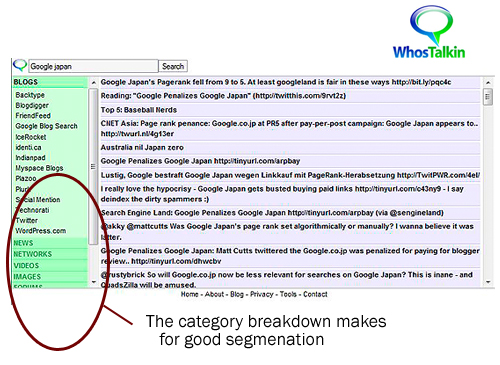 What is quite handy are the titles in the side panel, these are for segmenting the results. These options include;
Blogs
News
Networks
Videos
Images
Forums
Tags
We can get as granular as you like depending on what you're looking to do. I find that pretty hand as in the past I cobbled a variety of Google Custom Search Engine's together to get the job done as I did with Search SEO Pros and Research your blog posts with buzz monitors.
The major teaser at this point of course is hitting the 'Options' tab where we're told some great features are on the way such as saving searches, RSS and even an API (which had a few trail riders drooling). While it is good as is, many of the people that tried it out were asking about the upcoming additions. Thus being and SEO geek, searching out the buzz man was the next call of order…
In talking with Joe it seems apparent the early reactions have done well, "…(the) first week after launch we had a little over 20,000 unique visitors" which is not a bad start, although he followed up with near irony, saying, "…..it does slow down when the buzz wears off" – he oughta know I'd imagine.
Features and the Future
While the final plans aren't in place, they are looking to start rolling out a pro version soon;
"I am thinking like one package that can do everything you need, and then in the future expand into more packages that folks that are more serious about monitoring might want." Joe said, while venturing that Pro accounts could have;
Saved Searches,
RSS,
Email Alerts
Trending data.
 Beyond that, as with any good social tool they're considering an API among other things. You'd have to think there is potential for even a white label version, but I'm wandering now.
iGoogle gadget
He's even whipped up an iGoogle gadget, which I promptly whacked onto one of my many tabs;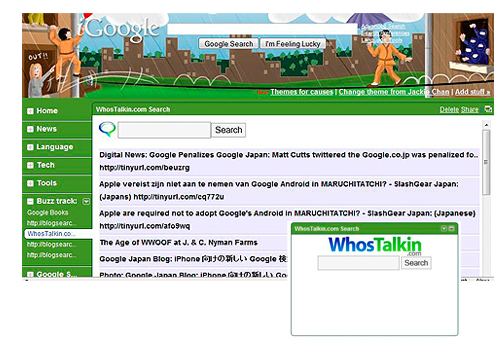 What can I say? That's just toooo much fun. As you can see I have a few buzz tracking toys on the go there. Having Who's Talkin right in my Google Homepage was a definite bonus.
Link checking
Another bonus is that you can also use the 'link:' command to find websites/blogs that have linked to you in a given article – an added layer of digging that works as well… Here's a video on that;
And there are a few more videos HERE…

WhosTalking certainly has some potential. Where it goes from here is about as easy as predicting when this damned snow will melt away upon my Canadian doorstep. I can tell you that the tool has some handy applications and the team seem committed to growing it even further – a great job for a small shop ( one simply has to root for the underdog oui?) I want to thank Joe for asking me along and for answering questions… and I wish him only the best for the future.
I shall report back when the next changes come out… until then, get yer buzz on