War Rages On!
Written on December 18, 2009 – 12:23 pm | by SilentJay74 |
Ncomment is back with his second installment of his WAR series. Reddit has invaded the world of Digg and sent Diggers into hiding to plan a revolution against the alien and robotic army of Reddit invaders. With division of Diggers at an all time high, the Reddit army was able to invade the Digg city and bring it to its knees in a single day.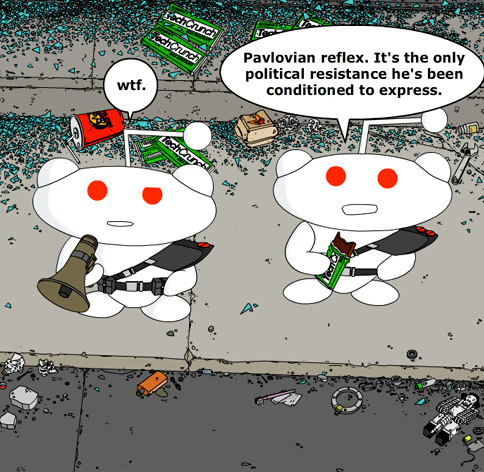 Ncomment has been able to perfectly capture the political and social issues surrounding social media in his comics since the time they were first introduced. Somehow, he's hit the nail on the head each time. If you look carefully at his comics, some things are subtle and others not-so-much. Not only does he capture social media issues, he also  includes avatars and logos of well-known publications and social media users.
From TechCrunch Candy Bars, BuzzEdition Beer, The Drill Down Bilboards, Nowsourcing street signage, and The Huffington Post Copy Center, Ncomment has been spot-on. WAR part 2 is packed with social media references and well known sites. Mixx.com has become a refugee camp where Lt. General Panda has begun work on his ultimate weapon (powered by bacon) while the Social Blend news van is parked out front. We even get a look at the Holy Grail itself — the Digg algorithm.
So how does he do it? Ncomment applies one of the best known rules of the Internet, #32, "Lurk Moar." And boy does he lurk.  Only by doing so has he been able to capture the essence of social media so perfectly — its users. He engages them, gets to know them and then folds them perfectly into his comics. He even takes a stab at Ashton Kutcher and his Twitpics. No one is safe.
WAR Part 2 hit the Digg Front Page and was met by rave reviews of Diggers and Redditors alike.
"Best thing I have seen on Digg all week! LMAO!" says Digger Sexualwasabi.
"Best fffing comic evar" writes glucoseboy.
"I saw this headline and I honestly thought, 'please God let this be ncomment' – very well done!" says Jaybol.

WAR Part 2 has been eagerly awaited by social media enthusiasts, more so than the New Moon movie by teenage girls.  Ncomment delivers, and we can't wait for Part 3.