Have You Ever Seen a Birthday Post With Legs?
Written on November 25, 2008 – 9:29 am | by Brian Wallace |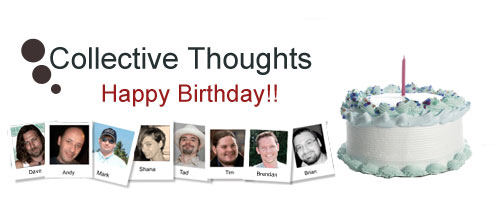 We decided to skip the perfunctory  "Happy 1st Birthday, Collective Thoughts" year in review and turn it on its edge.  We were all talking and wondered the last time you saw a birthday post that you'd refer to later on.
Birthday post are formulaic and predictable.  You can usually expect:
contests and giveaways
highlights of best posts
goals for the future
With aggregation and bookmarking tools, it's pretty easy to find out the best posts on your own.  This is web 2.0, so we need to give you more.  Let's delve further into the social experiment.  What's a birthday for? Aside from celebrating your first day out in the world in your birthday suit, it's a day for people to focus on you.
We are nothing without you, our community.  You help make us great, spreading the word, retweeting, and the like.  We're also aware of the uncertainty of the financial markets these days.  We'd like to use our birthday to cast some light on you, and develop community here.
We want our readers to "give" us their best posts of the last year, so we can publish them in the next post.
Readers should aim for the post they most want highlighted, the one that is aimed to show their expertise in the best possible light, possibly the one they wished had got more attention.