Why Are Alexa Double-Dipping Social Media Penalties?
Written on August 8, 2008 – 5:24 pm | by Andy Beard |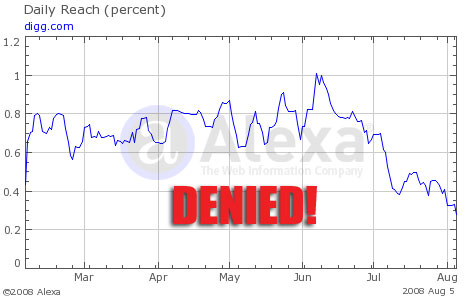 Earlier this year Alexa shook things up a little, applying some kind of penalty or reduced modifier to websites with a traditionally higher percentage of Alexa toolbar users than average, predominately technology and webmaster focused sites who found the Alexa data useful, or who actively evangelised Alexa toolbar use as it is often a major factor in gauging traffic for advertising.
Some of the 3rd party tools offering Alexa data also provide other useful features, especially for webmasters with toolbars such as Search Status for Firefox.
Some level of rebalance was probably fair, to try to address the concerns of sites with high traffic but with a much lower frequency of Alexa toolbar users, who often felt they were at a disadvantage, especially in advertising sales.
During the last month Alexa has introduced another round of filtering or penalties, reducing or wiping out the effect of traffic from Social Media and Social News sites such as Digg and Stumbleupon, but potentially other sites such as Twitter or popular feed readers.
I haven't done enough granular research to come up with a final list of likely candidates.
This is something potentially valuable to advertisers, as huge traffic spikes are possible from the largest social sites that can lead to an imbalance in their trend data, especially for the most recent 3 month period that appears in their toolbar by default.
I actually welcome this change, although I would much prefer to have both sets of data available, thus allowing Alexa to also provide a 3rd, possibly unique measure of the most "socially influenced" sites.
Unfortunately they seem to have made an error in their calculations, reported by both Performancing and more recently Daily Blog Tips (lots of head to head comparrisons), which is interesting to explore in more detail.
Double Dipping Penalties
If there was a 75% penalty for webmasters, or their toolbar multiplication factor was 75% less you currently have something like this:-
Traffic=((Toolbar*10)/4)-SM
Say there were 60 visitors to a site using the toolbar (maybe from 500 -1000 total visitors), and 100 visitors were from social media (10-20%)
((60*10)/4)-100 = 50 visitors being counted
Note: It would only take 25% of traffic to come from social media for the resulting traffic to equal to zero
What it should be is something more like:-
Traffic=((Toolbar*10)-SM)/3
/3 rather than 4 because webmasters might more frequent social media users as well, though penetration of both toolbars might be even higher.
((60 *10)-100)/4 = 125 visitors being counted
These are only examples of how the math might work and are not real world figures – I am sure Alexa are using much more complex calculations, but I am equally sure they are making some serious mistakes that can make a site receiving 500+ unique visitors per day appear to have way less than 100, or a site receiving 10,000 appear to have the equivalent of 1000 visitors or less.
This is something that affects all sites, but disproportionately affects sites (technology and webmaster) with a higher percentage of Alexa toolbar users, that had them rebalanced earlier this year.
Here are some examples of popular webmaster related sites that this double-dipping penalty have had a drastic effect on
Shoemoney.com currently with a 1 week average of over 174K
Doshdosh.com currently with a 1 week average of over 200K
ReadWriteWeb for 5th August one day stats was an Alexa rating of 90,000
Search Engine Land for 5th August one day stats was 83,000 with a one week average of 86K
The double-dipping penalty also hasn't left the social sites themselves unscathed, with Digg and Reddit for some strange reason showing noticable declines, but Mixx continuing to gain. Maybe internal referrals from subdomains offer a benefit.
Then there is Tech industry favorite Techmeme, which is quite capable of sending 1000s of visitors to other sites on a daily basis, real referral traffic, but for some reason has a weekly average of 137,000 itself.
Daniel on DBT went into a lot more examples as mentioned earlier, including comparing traffic where he knows the real stats.
It is hard to tell how this might have affected larger sites, as relative traffic levels might be looked on as seasonal averages, and a drop from 2K Alexa to 4K Alexa might be just par for the course.
So far there is no official mention of any changes on the Alexa blog.
Whether my equation is correct doesn't actually matter, it is clear that many sites (but not all) within the technology and webmaster niches were hit.
The most infuriating part isn't the penalties and calculation mistakes themselves, however they are done, but how Alexa, owned by Amazon, could make such as huge and obvious mistake.
Could this be deliberate, and if so why?