Quality; the ultimate marketing tool
Written on July 31, 2008 – 6:36 pm | by dave |
If you're selling crap, if your website sucks or your customer service is non-existent, then you are likely making your marketing efforts much harder than need be. This is never more true than when talking about social media marketing. If you'd be so kind, allow me to elaborate.
Recently the masochists here at Collective Thoughts tasked me with writing the odd tidbit of social goodiness I was certainly bemused at the prospect of doing so. You see, in the end analysis I am a business consultant that almost exclusively moves from the mindset of what is best for the SMB (small to medium sized business) – which is not always to favour Social Media Marketing. Actually, for some time there was every reason to question where it fits inside the marketing toolbox at all when success already existed without it.
(inspired by Web Pages that Suck!)
And what is the secret to social media marketing success anyways? That will all depend on what you're looking to get out of it. Some common benefits include;
Branding and brand management
Customer service/relations
SEO implications (rankings/SERP management)
Sales (advertising, product or service)
Leads (primary and secondary)
While in most cases you will have multiple goals and benchmarks for measuring success, there is one simple concept that you should consider to ultimately ease the strain on your marketing load; quality.
The quality connection
Ultimately with any type of offering one of the primary factors that truly needs addressing is quality. Your efforts in marketing will always be best served and budgets eased by putting the effort into quality control throughout the business lifecycle. Should future plans include strong web support from SEO, SMM or even Branding and Qualitative Research aspects, quality is your friend and can do much of the work for you. You should put an effort into each aspect as this will ultimately help you maximize your marketing efforts.
Some examples include;
Quality products and services
Quality information/resources
Quality conversations and interactions
Quality presentation (website and packaging)
Quality content (websites/blogs)
Quality infrastructure and usability (online and off)
By making all efforts possible in attaining the highest possible levels of quality, your efforts in not only social media marketing, but all areas of your marketing plan shall be eased. It is no longer the world of hard sell and the viral wonderment of cumulative efforts shall bear its sweetest fruit.
Do your self a favour and don't be swayed into thinking that shortcomings in your approach can be made up with marketing budgets. While reach can be improved, ultimately the social world fumbling could do more harm than good to your cause.
Understanding the value of quality we can also look to the actual traffic generated from your SMM campaigns.
Quality traffic over quantity
No matter what the goals of your SMM campaign may be, targeted traffic will always be the call of the day. By running generalized campaigns one ultimately attracts generalized traffic which is usually not effective in the end analysis.
Would you rather have a momentous wave of mindless Diggers or lesser set of targeted TechCrunchers for that latest service offering?
Would you rather a sea of Stumblers or a trickle from Kaboodle with that new camera line your pimping?
How about market influencers?
A single positive experience from a market influencer can be worth more than a Digg and Stumble rush combined. It is often the quality of the visitors that we desire over sheer numbers.
One must certainly try and decide early on what your goals, qualifiers and associated values will be for a social media marketing campaign as mere mass of traffic to the website is usually not going to get the job done. In most cases you should be more focussed on the qualities of the visitors generated. Are they your target market? How can they further your course to the ultimate goals of the campaign? Is the traffic generation method sustainable?
Once more, quality is an important aspect that must be considered.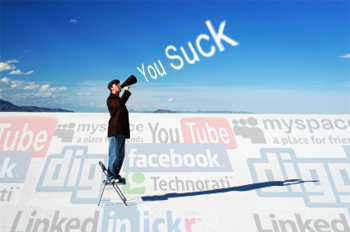 Word of mouth travels at the speed of sound
And so, you should at all times remember that one's efforts from the goal setting, systems and planning to the development and analysis processes; quality is a word to respect. You should not cut corners nor try and fool a wary public into believing you are more than you are. This attention to quality will surely be noted in the greater sphere and pay the ultimate dividends to be reaped from a successfully social media marketing campaign and beyond.
The next time you hear 'quality over quantity' remember to look in the metaphorical mirror to ensure your mindset seeks out the qualities of success.