Mixxed Messages
Written on February 7, 2008 – 1:58 pm | by Brian Wallace |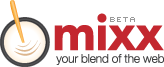 Just released yesterday, Mixx has stepped up its growing social news site, now adding the ability to message other users within the site. Chris McGill spoke about these features being on the Mixx roadmap in our earlier interview with him. From the Mixx blog:
Mixx Mail Phase 1: Now you can send and receive messages to and from anyone in the community without ever leaving the Mixx. Mixx Mail offers some very handy little features, including:

* The icons of all Mixx friends in your address book—especially useful if you're like us and remember faces/avatars better than names.
* Send a message to a Mixxer directly from that user's profile page.
* Block overeager wanna-be groupies. That's right—not only can you slam the door on their friendship pleas, but now you can block them from sending messages, not that you'd be so cruel. Right? Well ok then, just don't block us.
* Opt to have a daily digest sent to your regular email and we'll let you know how many messages you have waiting.
The recognizability that an avatar brings is taken into account here, as shown below:
There is also a new release on group message boards, a handy addition that Mixxingbowl, the unofficial Mixx forum, doesn't entirely address.
These are welcome features and should certainly improve usability on the site.
Traffic is Still Mixx's Weak Point
When you compare Mixx with a Niche Pligg-based site like Sphinn, the result is disappointing: even with a large spike in November/December, its visitor numbers have barely risen. Let's look back at our own home-brew of those events, Google Trends like style: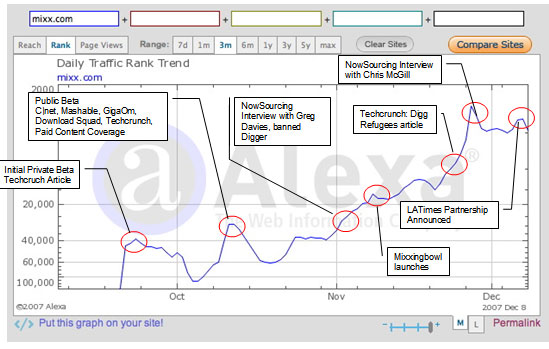 To put things into perspective we can't show you the graph between Digg and Mixx as Mixx visitor numbers are so tiny it's barely more the a straight line. So instead let's compare it to a large Social Media Blog like Dosh Dosh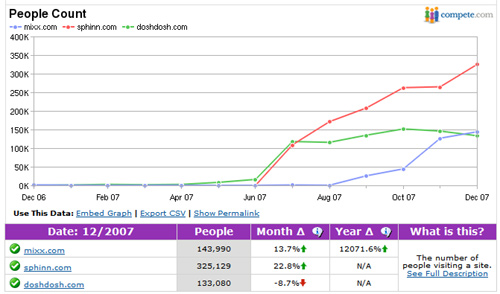 Keep in mind that Compete.com numbers are to be taken with a pinch of salt but they are a good guide to trends and Mixx seems to be stuck in the mud.
On the flip side, social media is not just about numbers but reaching the right numbers. Mixx is developing its own diverse crowd, many of whom are active Stumblers and Diggers, making it a great spot to promote material that is ultimately aimed at these audiences.
Mixx as a site is technologically ahead of the game, its owners are well known and are in touch with their user base and their accountants. The question remains: is a business model based on poaching users a successful one? Can Mixx gain the traction needed to get out of the mud and when is there API coming?
This social media public service announcement has been a joint effort between the illustrious Brian "stop making me write long posts" Wallace and Tim "You got to write long posts" Nash. Thanks for stopping by, good citizen.