Do you Have What it Takes to be a Social Media Ninja?
Written on December 5, 2007 – 7:37 pm | by Brian Wallace |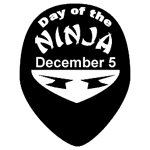 In honor of the Annual Day of the Ninja, we here at Collective Thoughts wonder if you, the reader, have what it takes to be a social media ninja.
So, don't just sit there. Tell us. Comment in 250 words or less why you think that you've got the stuff. Mind you, this is not for the easily intimidated or faint of heart.
We'll keep comments open for a week, giving time for all our friends as PubCon Las Vegas and SES Chicago a chance to recover and get back into the swing of things.
The Collective Thoughts team will select the 10 most worthy, and will open it up for democratic voting for the 2 finalists. Rest assured, the winners of this contest will have something worthy of social media ninja awesomeness at the end of the day. Details to follow.