Keeping Up With Your Blog Visitors: An Interview with MyBlogLog
Written on December 18, 2007 – 8:43 am | by Brian Wallace |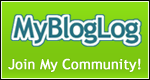 We at Collective Thoughts are big fans of the MyBlogLog service, and went out to interview Ian Kennedy, Product Manager for MyBlogLog at Yahoo. Thanks for taking the time to speak with us, Ian.
1 – Tell us a little about your background, and how you've found the experience of being with Yahoo vs. running Product Development for MyBlogLog.

I got into blogging in 2003 when I was working at Dow Jones as a Product Manager. Blogging allowed me to reach out directly to my customers and get feedback on new features. I've been blogging ever since, and working with bloggers at MyBlogLog is a natural extension of my interests. I've been at Yahoo! for just over two years and joined the MyBlogLog team last summer after stints with Corporate Development and the Yahoo Publisher Network. Working with the MyBlogLog team has been great. I particularly enjoy the ability to release more often and try out new features. While a more established Yahoo! product with hundreds of millions of users may only do a release every couple of weeks, MyBlogLog usually does several minor releases a day while and we try and push out a user-facing feature once a week if possible.
2 – Mybloglog has been working on an API for months but have yet to release it. Could you give us a hint as to when is the API coming?

Thanks for asking. I know I sound like a broken record but our beta release is literally around the corner. We've been working with Yahoo Developer Network to ensure the API conforms to the highest quality standards. The good news is that we're going to be ready to go with the invitation-only beta in January. If you're interested in being considered for the beta, there will be an opportunity to submit an application in January when the beta is launched.
3 – Google's OpenSocial has been all the rage lately, as far as social networking platforms go. Any plans to join the fray?

We're looking at OpenSocial carefully and feel that we may potentially have a lot to contribute once the API is fully baked and OpenSocial has matured a bit. For one thing, as one of the few services out there that can map your various service identities together, MyBlogLog can bring a lot of value to developers. For example, via the "services" tab our users have the opportunity to share not only their delicious ID but also their YouTube ID. The API will allow you to look these up and cross reference them with each other which could be useful to any OpenSocial application looking for broader appeal.
4 – Any plans on including a way to have tagging related to content rather than a whole blog in the future?

Yes. That's about all I can say at this time. Stay tuned!
5 – How has the migration from a small company to a department in a large global business that is Yahoo gone?

It's been a balance of payoffs. On the one hand we can't move quite as fast as we'd like, but on the other hand we now have MyBlogLog servers in two colos on each US coast. There's been more overhead in code review, but at the same time we have at our fingertips all sorts of internal tools that have been built to help manage large, dynamic databases. MyBlogLog on its own moved quickly to gain attention from the innovator crowd; and Yahoo!'s core expertise is taking something innovative and re-packaging it for broader adoption by the mainstream so we feel like we're set up for success.
6 – What, in your opinion, makes Mybloglog stand out from similar services? What is the value proposition for a blogger to install yet another widget in their sidebar given the vast landscape of products. Places like Blog Catalog come to mind.
Our focus for the past several months has been on infrastructure to make sure that MyBlogLog can scale to meet the needs of a Yahoo!-scale audience. To that end, existing users should notice that performance of our widgets has gotten better and some of the bumps of the past are gone. Secondly, we have now tied the MyBlogLog login with Yahoo!'s login so each MyBlogLog account will automatically be associated with a Yahoo! ID. This will allow us to do some useful things going forward like making your MyBlogLog profile information available for use elsewhere on the Yahoo! network and make any Yahoo!-specific information available to the MyBlogLog community. In both cases the options for personalization of our users' experience should improve.
7 – What plans if any do you have to expand your premium services such as stats?

We have no plans to extend the existing solution, but we are looking forward to using the API to make stats more broadly available on other platforms. We think it'd be cool to see your stats in a desktop widget or via your cellphone, which would make premium features such as intraday stats that much more compelling.
8 – How does MyBlogLog get its message out to users and has the channels of communication changed now they are part of Yahoo?

Our channels are pretty much the same as before. We primarily use our blog but also use other Yahoo-specific channels such as the corporate blog and we also printed up a bunch of stickers to hand out to people we meet. The world tour and guest appearence on Good Morning America have been put on hold for the moment 😉
9 – We used to love the monthly updates in MBL growth during the early days, how many members, how many widgets installed, and widget displays – will we ever see such openness again in the future?
Sure. We have over 350,000 members with our widgets consistently generating over 19M daily impressions. The number of widgets installed is an internal stat we're not sharing at this time.
10 – Do you think Mybloglog reached its critical mass in terms of growth?

No. I think we're still a pretty niche product. There's no real reason to use MyBlogLog unless you have a website. We have a number of features in the hopper that will change that and make MyBlogLog interesting for anyone who uses the web on a regular basis, which we think will lead to broader adoption.
11 – Many people reacted critically to the broadcast feature how has MyBlogLog policed this feature and should they be the ones policing?
We did two things related to messaging – back in June, we enabled the ability to message all members of your community, which is the controversial feature to which I think you're referring. By giving our users the power to message their entire community we may have opened the door to compulsive messagers that feel the need to tell everyone they know about everything they learn. In the end, the controls that allow people to get these updates are in our user's hands. If you don't want to get these messages via email, then you can turn off email updates. If you don't want to get these messages period and feel that they do not bring any value to you, then, just as you would remove an RSS feed from your reader, you need to re-consider the benefits of being connected to such a chatterbox anyway. We have not resorted to heavy-handedness in managing the messages as we think joining or leaving a community should be feedback enough to keep all but the most egregious offenders at bay.
(Note that there if anyone has any thoughts on what they would like to see on MyBlogLog in the future, there is a suggestion area on Yahoo to leave feedback.)