Time to vote – Open Web Awards
Written on December 13, 2007 – 5:10 pm | by Tim Nash |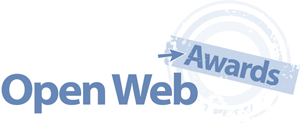 It's time to get those fingers ready and to get voting in the Open Web Awards 2007, you helped us choose who we would put forward to the various votes and now its time to see who you want to go on to San Francisco.
"You are voting for your favourite in the various categories in the Open Web Awards, a distributed contest to find the best sites on the web. The top three sites in each category will proceed to the final round starting December 17th, and there will be an awards ceremony at the Palace Hotel, San Francisco on January 10th, 2008."

To Vote – http://mashable.com/openwebawards
You have until 16th of December a run down of all the nominations and for more information please visit the Mashable recap page.
To all the nominations good luck from the Collective Thoughts team, and if your blog is not one of the nominated why not try your luck as one of our social ninjas.