Stop Steampunk SEO, Start Being Friendly to Your Peers
Written on November 16, 2007 – 6:02 am | by Tad Chef |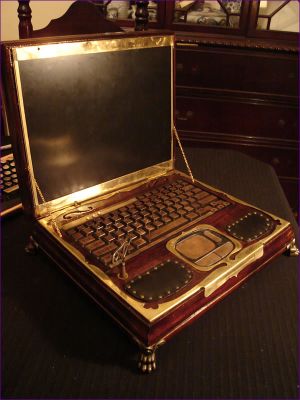 Steampunk laptop by Datamancer.net
Some people are hopelessly late. Are you one of them? Many people still think that
search engine submission
meta tag optimization
keyword stuffing
PageRank
link exchange
and similar SEO anachronisms straight out of the nineteenth century will get them website traffic and make it an authority. Wake up, you have been asleep for more than a century. Stop practicing steampunk SEO tactics and start dealing with the future or rather the current web, web 2.0
In web 2.0 we also speak of the social web. The social web is not a web of spiders anymore, it's a web of humans. Yes, people like you and me. Webmasters, bloggers, social media users, readers, people who seemingly do not contribute anything but click.
Something radically changed. And you were asleep. You didn't notice it while you were exchanging links in your footer, watching your pagerank bar and adding three different synonyms of the same word into your page title.
Maybe you have been on Digg, Flickr or YouTube already and you read some blogs like Boing Boing.
If you want to succeed in todays web memorize some more of these names:
WordPress,

Drupal

MyBlogLog

,

BlogCatalog

StumbleUpon,

Yoono

BlogRush

, CLIQ

Mixx

,

BloggingZoom

Facebook

,

LinkedIn

Twitter,

Pownce
Just to name some of my favorites and some sites you just can't ignore anymore…
But it's not just about the sites, the brands, the latest hypes.
It's about you. But it's not only about you. It's also about your peers, about your neighbours, your friends or even your competitors!
While you depended on the new deity, Google, the world has moved on.
While you removed links to other sites so that you do not loose PageRank others have been linking generously. While you did not sleep at night watching your PageRank bar in anxiety others uninstalled the Google toolbar. While you were determining the ideal keyword density others were socializing with their peers. They were creating relationships, building up power profiles, connecting with their colleagues around the globe.
They rank in Google above you, as a side effect, some of them do not even have PageRank but they not only outrank you but their traffic is ten or hundred times bigger than yours. They even link their own competition as you call it. Either you do it too or you'll be forgotten and marginalized. Start now. Read on. It's not too late yet. Be friendly to your peers. You depend on them.